This is a Demo System. None of below torrents are real. Please do not try to download!

bitdefender_tsecurity.exe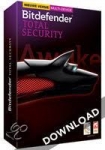 Uploaded 28-04-2015 05:08 by
System

8.1/10
Bitdefender Total Security is an all-encompassing security scanner. It now comes with new and improved features that learn from your computer use to optimize performance and reduce the need to monitor unsecured network activity.
Pros
Perfect protection score: Bitdefender is the only current security software to score 100 percent in the Real-World Protection Test by AV-Comparatives, compared to the 99.9 percent score from last year. According to AV-Test, Bitdefender scored a perfect 6.0/6.0 in both the Protection and Usability categories, and an impressive 5.5 in Performance.
Adaptive modes: Bitdefender intelligently detects and triggers different security profiles based on your machine's active setup, using a new feature called Bitdefender Profiles. When Bitdefender detects system-hogging activities, it attempts to prevent certain apps from popping up to reduce slowdown while keeping security profiles active. Autopilot mode lets Bitdefender make decisions for you about unknown files, alerts, and pop-up notifications.
Modern design: Bitdefender's overall design remains top-notch, with touch-friendly controls, clean interfaces, and a modern feel. The interface is flatter and more streamlined, with a drastically reduced number of options and panels. Bitdefender Total Security 2015's menu focuses on Protection, Privacy, and Tools. OneClick Optimizer, a new feature, removes unnecessary files and frees up resources by allocating memory for more active programs.
Cons
Slow installation: Bitdefender scans your computer during installation. Though it's an added security benefit, you may find that it slows your installation time and loading speed.
Bottom Line
Bitdefender Total Security ranks as one of the most effective consumer security scanners available. In keeping with the recent trend in PC security software, this release focuses more on intelligent background processes. Bitdefender Total Security maintains its top scores for security and design, and so remains one of our top picks for antivirus software.